Born and raised in Tunisia with a great love for cinema, Leïla Menchari is an unusual storyteller. She traveled everywhere to bring the world to the Hermès display window at the fashion house's location on Saint-Honoré street in Paris. Leïla Menchari accompanied Hermès on a 48 year journey full of unforgettable milestones.
Leïla Menchari and Hermès: an inseparable but surprising duo. On what is it based?
Leïla Menchari: For me, Hermès represents family, Hermès has given me everything. In 1961 I graduated from the Beaux-Arts. Annie Beaumel (the diretor of the display window), who hired me the very day I came to show her my drawings, offered me a springboard, and I then had to carry on. I knew immediately how lucky I was. Hermès gave me the opportunity to make my own way while following my dreams. I met people, Protestants, who understood me, a woman from North Africa, and at the same time I was given a path that channelled my focus. I somehow joined that path. Hermès has been the most wonderful entrapment of my life.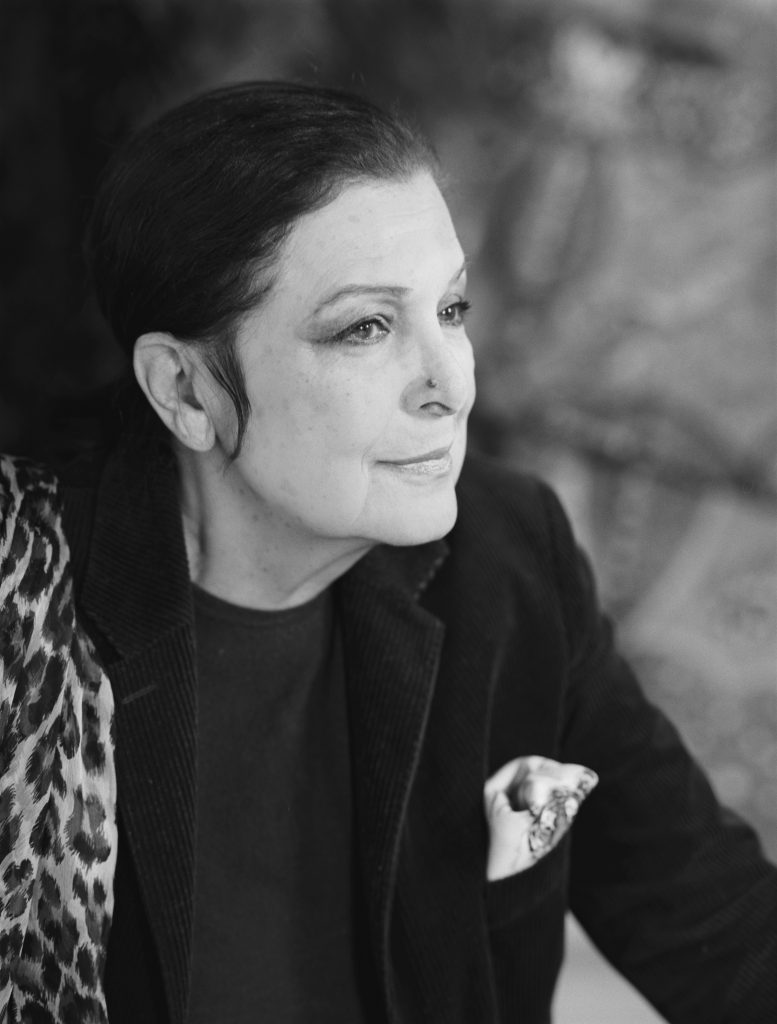 Leïla Menchari – The director of display windows at the Hermès flagship store on Saint-Honoré street in Paris
What are the challenges of creating a window display?
L.M.: A window display is a way of telling a story, and there are all sorts of ways of telling them. The big window is a theatre for which I had to find a tableau to fit a story. I had done theatre sets at the Beaux-Arts and had loved it. But this particular theatre set is far more difficult: there's no text, no movement and no distance. You have to cover everything: you're a designer, painter, composer, theatre director… Once I did a very simple one with almost nothing in it: a beach, a reef sculpted from white marble which resembled a wave, and a pair of sunglasses and a swimsuit. And I had Eau d'orange verte sprayed into the street. Jean-Louis Dumas's initial reaction was to say "But Leïla, there's nothing there!" and then he saw a lady inhale the scent and he said to her "Breathe, Madame, breathe", and with that he attracted more people, passed on my story, and there was soon a crowd. The key is to be able to evoke things that people have liked by expressing them differently. That's also what we're doing with this exhibition at the Grand Palais: we're bringing objects out again, but for different images. We're re-shuffling the cards. The result is a stroll through tableaux that are completely different from the original window displays. It's a new journey.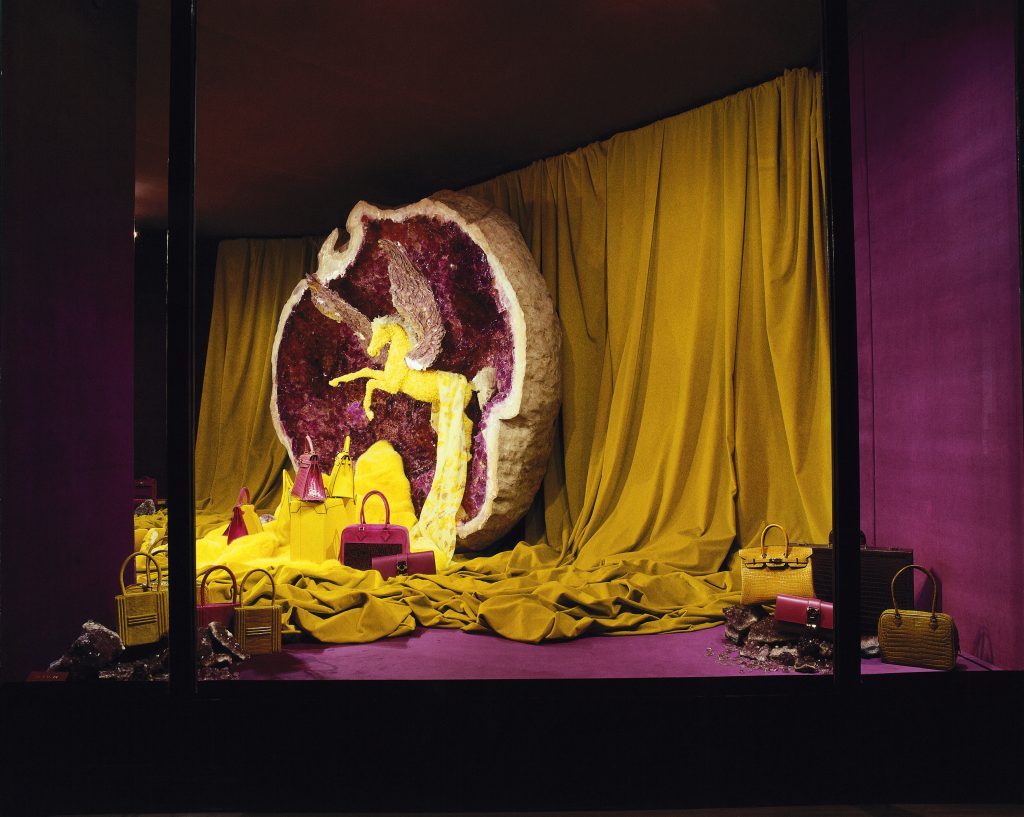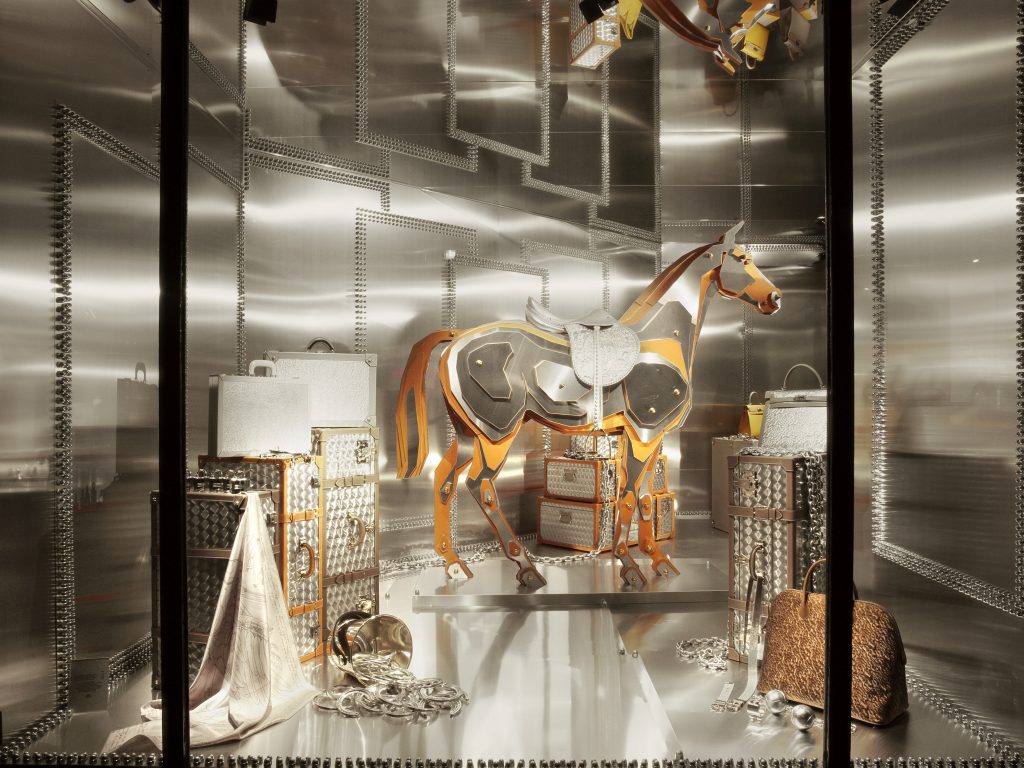 The space at the exhibition "Hermès à tire-d'aile – Les mondes de Leïla Menchari" at Grand Palais, Paris in charged by Leïla Menchari 
What have been your most extravagant and most memorable window displays?
L.M.: In my view, all my displays have been extravagant! But essentially, the most complex to create have been the simplest. For the Year of the Stars and Mythology, for example, I asked the sculptor Albert Féraud, a friend from the Beaux-Arts who used to work mainly with metal, to make me a meteorite that would rotate in the space, in the big window, it was completely crazy… He used a block of metal he had left over frommaking the Koenig Memorial at Porte Maillot in Paris. I don't know how he did it, but he managed to create a thing that rotated in mid-air, and it was impossible to see how it was done…But it wasn't easy to get them to understand fully my madness. The workshops have never said no to me, always "we'll see, Leïla, we'll give ita go."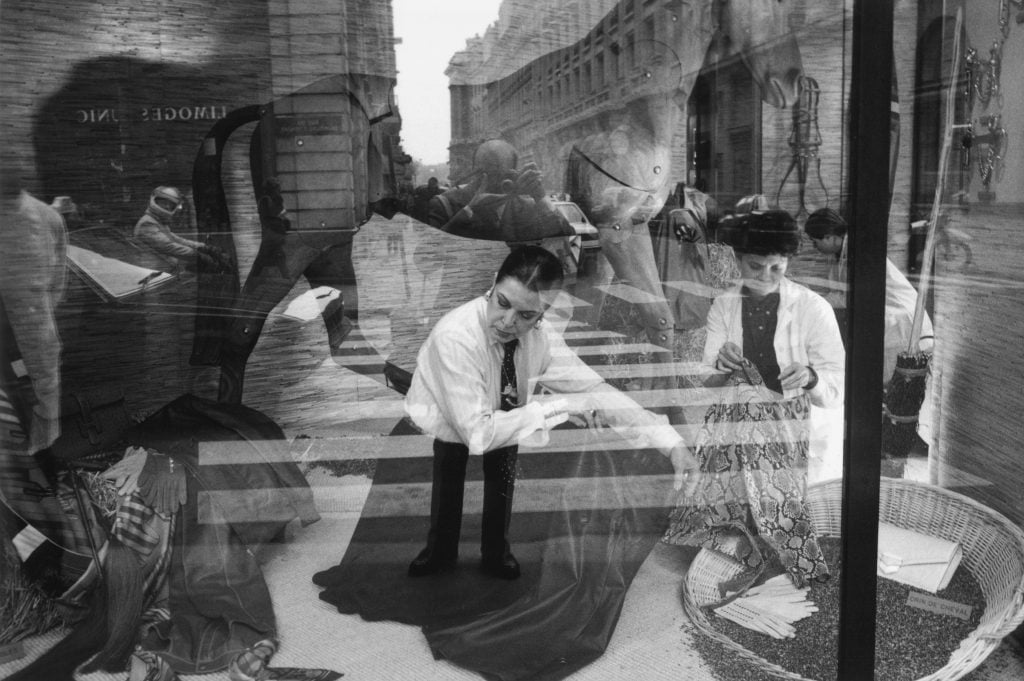 Leïla Menchari is passion with her work in display window for Hermès storestore at Saint- Honoré in Paris. The photo was taken in 1985. 
I wish you will keep on the way of the successful with your dreams in Hermès. Thank you!
1961 Becomes assistant to Annie Beaumel, director of window displays at the Faubourg Saint-Honoré store, in Paris.

1978 Appointed director of window displays at 24 Faubourg Saint-Honoré, and of the silk colours committee.

1990 : Immersion into traditional Japanese handicraft.
1999 : The Hermès Shop Windows – Tales of a Wanderer by Leïla Menchari by Leïla Menchari and Michèle Gazier
2003 : Jean-Claude Ellena creates for Hermès the fragrance Un Jardin en Méditerranée, inspired by Leïla Menchari's garden in Tunisia.
2007 Travels in India. She went from New Delhi to Mumbai, stopping off at Jaipur, Jodhpur and Udaipur, in search of exceptional savoir-faire.

2008 M par M (Menchari by Moreau), documentary by Josée Dayan.

2010 Orient-Hermès, voyages de Leïla Menchari exhibition at the Institut du Monde Arabe, Paris.