Botanical Print Group
Undoubtedly, the masterpiece of the women's collection, the botanical print pieces are nothing short of breathtaking. Inspired by 15th century German painter Albrecht Durer, a veritable field of wildflowers comes alive within each piece, thanks to the kaleidoscope of shades and the intricate detail and craftsmanship that went into creating them. "It's a very tricky process since there are so many colors of shading within each flower," notes Maier. "Normally, you have two to eight, but these prints often contain over 30." The prints grace a generous number of pieces, including dresses, skirts, shoes, boots, even a Knot—in a range of luxurious textures from tech duchesse to snakeskin. This selection of pieces is adorned with prints bearing wildflowers, field grass and butterflies. Highlights include a tech duchesse shift, nylon blouson, cashmere knit cardigan, snake skin Mary Janes, strappy sandals and lace-up boots.
Loop
With its relaxed shape and roomy interior, the Loop has become a go-to among the sportier set since Creative Director Tomas Maier introduced it in his debut collection for Bottega Veneta in 2001. It's the perfect weekend companion to a pair of jeans and boots, yet also perfectly at home in the boardroom. Made of soft intrecciato Nappa leather, its wide opening provides easy access—big enough to house workout clothes and shoes, several documents or overnight essentials. Offered in both bright and deep colors, following its re-edition in 2016 with the Anniversary Collection, this season the Loop receives a subtle update in the form of new brunito hardware. Available in two sizes, small and medium.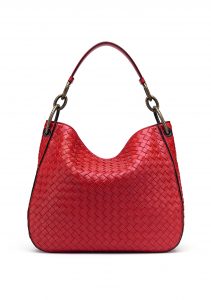 New in the Knot Family 
A new shape has joined the Knot group this season: the Chain Knot, designed to be slightly roomier than its classic Knot sibling in order to comfortably accommodate slightly larger essentials—like the iPhone 7, for example. It also sees the addition of a delicate chain strap for convenient cross-body wear, which can be easily hidden inside should carrying by hand be preferable. In other Knot news, a select group of styles are introduced in Nappa Top, including the City Knot and the Knot Clutch. Nappa Top describes a special Nuvolato technique by which the leather is treated, bestowing a slightly cloudy appearance, resulting in a nearly 3-dimensional effect to the intrecciato leather. Nappa Top is available in six shades: Camel, Light Grey, Twilight, Aqua, Cobalt Blue and Gigolo Red.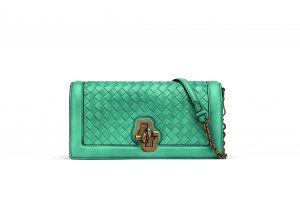 The Piazza Bag 
Refinement and discretion intersected with whimsy and vibrance. These four words come together in the newest member of the Bottega Veneta's bag collection. Meet the Piazza.
Named for the square that acts as the heart of a neighborhood or town, the piazza is a uniquely Italian concept. It's the center of public life and designed to be timeless, like Bottega Veneta itself.
Italian piazzas are the showcase for the harmonious elegance of a city. The shape of this bag embodies such elegance, with its sleek lines and graceful bearing. Designed in two noteworthy versions, the French Calf is graced with a touch of the house's signature intrecciato on both sides, its weave discreetly accenting the gusset. In a variety of colors, including nero, denim, steel and terracotta, each saturated hue is finished off with handsome dark gold and brunito hardware. The ample plain panels enhance the beauty of the leather, and the interior is lined with plush Agnello velour.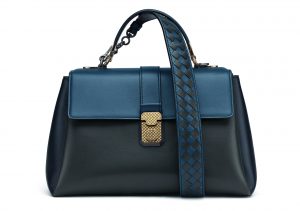 Brick Backpack
Don't let its modest size fool you. The new Brick Backpack might measure in at a more efficient size than our other backpacks, but it is nevertheless roomy enough to comfortably fit a laptop, pair of shoes and gym clothes. A broad zippered closure makes access easy, and two side snap-closure pockets are perfect for holding a smart phone, earbuds and keys. Inside its soft cotton-lined interior is an open panel pocket as well as a zippered one in the back. Along with convenient double shoulder straps, it can also be carried
by its close handle on top. The Brick Backpack is introduced in two different treatments, both noteworthy designs: the Grid, which utilizes black threaded embroidery across its Leggero leather to create a 3-D effect within the weaving across the front panel, while the Galaxy's serigraphic print technique results in
a shooting star-like effect across its Nappa leather front.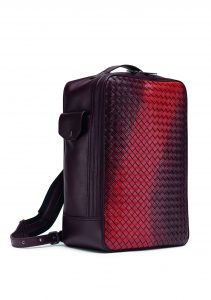 Fly Tote
As thoughtful in its design as it is visually, this tote is sure to become the must-have for the man who puts organization and function right up there with style. Created in a generous size that roomy enough to hold all of a traveler carry-on essentials, its super soft Nappa leather makes it both remarkably light to carry and amenable to being squeezed into an overhead compartment before take-off. Much thought went into the compartments of the Fly tote, starting with its unique top closure, where the two external panels fold inward. Each panel flap contains a discreet sleeve within, which, secured by a hidden magnet, ensures that even a sideways trip along a security belt will keep wallet, passport and anything else stowed there safe from slipping out. On the outside, live two deep external pockets that can hold documents, magazines and an iPad. Inside are two shallow pockets, one of which is zipped. To further prove that no element was overlooked, Mr. Maier made sure that its handle softly padded ergonomic handles make toting comfortable, as well as long enough to sling over a shoulder on the go.