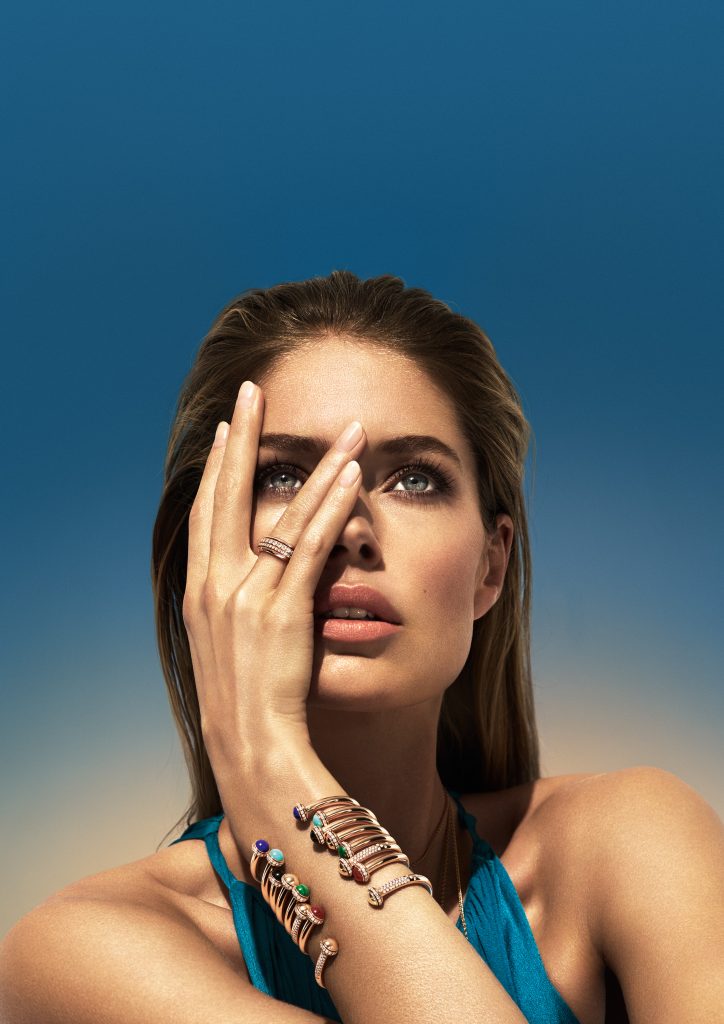 Photographers Mert & Marcus capture the daring and alluring world of Piaget in a print and digital campaign starring International Top Model Doutzen Kroes
Wherever she goes, the Piaget woman embraces the energy of the sun and the liberating joy that comes from cheerful moments. To reconnect with herself, destinations of choice are the most exquisite places like Palm Beach, Monaco or Palm Springs.
In a new campaign shot by famed fashion photographers Mert & Marcus, model Doutzen Kroes incarnates the Piaget woman: beautiful, luminous and feminine. Her bold personality is expressed through her unique style, as she wears radiant Piaget watch and jewellery creations that embody her life philosophy: to always walk on the Sunny Side of Life.
Known for their powerful images and their intense colourful photography, Mert & Marcus have turned this philosophy into a seductive invitation to experience the Piaget art-de-vivre. Starring alongside radiant and charismatic Piaget creations, the free-spirited Doutzen Kroes is the muse of Ibiza. Through the lens of the dynamic photographic duo, this new campaign is a celebration of life lived to the fullest in one of the most unforgettable places in the world.
"Mert & Marcus's bold approach to their art mirrors Piaget's own free spirit and desire to always surpass itself with daring creativity," explains Chabi Nouri, Piaget CEO. "Their complete mastery of light enables them to articulate the Sunny Side of Life, and convey the experience of living by this philosophy with intense emotion and colour.
"It was an honour to work with such a brand as Piaget," explain Mert & Marcus. "We have been big fans of their audacious design and their heritage for many years. Working with Doutzen and being under the sun with both her and Piaget was magical. Ibiza is also such a special place to us and there could not be a better fit for this campaign."
"Freedom is such an important value to me and one I share with Piaget. Whether freedom of thought, of style or expression, this value has been magnificently brought to life through the lens of Mert & Marcus, as a woman free to be herself and express herself in her own unforgettable magical paradise," says Doutzen Kroes.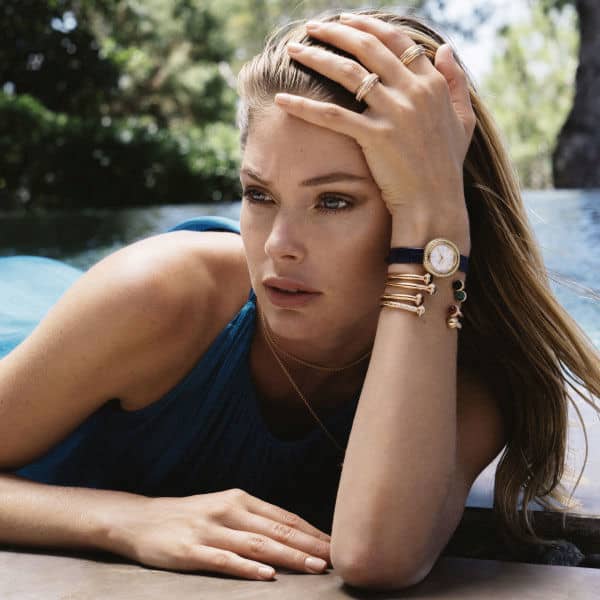 Shot on location at Casa Kaya in Ibiza, a campaign film captures the spirit of the life in this luxuriant universe, following a playful and blissful Doutzen and her companion Jason Morgan from morning to night, as they enjoy a poolside moment, overlooking the ocean cliffs, and a night of fun. They are part of the Piaget Society, a group of pleasure-seekers that share a common love for beauty. Together, they let themselves be seduced by a life of radiant moments on a captivating island.
About Mert and Marcus:
Mert Alas, born in Turkey, and Marcus Piggott, born in Wales, met in 1994 at a party in Hastings, England where they quickly discovered they had plenty in common, from fashion to photography. Three years later, the duo now known as Mert and Marcus had moved into a derelict loft in East London, converted it into a studio, and had their first collaborative photographic work published in Dazed & Confused. Over the years, the unique vision of this creative duo has defined and redefined standards for glamor, fashion, and luxury. Mert and Marcus have shaped the global image of many renowned brands as well as public figures including Lady Gaga, Madonna, Jennifer Lopez, Linda Evangelista, Gisele Bündchen, Björk, Angelina Jolie, and Rihanna. Their photographs encompass a wide range of styles and influences but are renowned particularly for their use of digitized augmentation of images, and a fascination for strong, confident female subjects.
About Piaget
It was in La Cô te-aux-Fé es that Georges-Edouard Piaget set up his first workshop in the family farmhouse and devoted himself to producing high- precision movements. This was back in 1874 and marked the start of an ever- growing reputation. In 1943, the company took a decision that would prove crucial to its future by registering its brand name.
Faithful to its pioneering spirit, Piaget in the late 1950s set about designing and manufacturing the ultra-thin movements that would become one of the Maison's signatures and leave a lasting impression on watchmaking.
But Piaget is also a style: a marriage of gold and an explosion of color, new shapes, precious gems, and dials made of ornamental stones. Carried along on the wave of extraordinary creativity driven by Yves G. Piaget, the brand's jewelry collection grew in an original direction with a resolute emphasis on color.
The ever-bold brand innovates by offering jewels in motion, extravagant Haute Joaillerie collections, and incredible watches. Enriched by more than 140 years of history, Piaget is now one of the world's most prestigious watchmakers and jewelers.